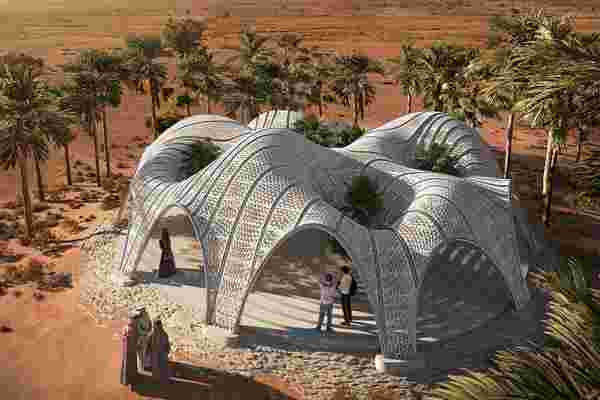 Architecture is present in our everyday life in a very subtle way, shaping our reality – right from the stairs in our complex to the view we see from our windows. But once in a while, the architect decides to make a bold statement with their designs and this is a collection of such designs! Every design here challenges the traditional design aesthetics and methodology, creating a structure that is sure to wow you!
The Desert Pavilion by MEAN* was created to be a communal oasis of heritage and micro-ecology. When you look at the renders, the structure is a blend of local Bedouin architecture with space-age technology. The design team has envisioned an innovative use of 3D printed panels by deploying them onto a CNC bent steel pipe system. The structure is inspired by the merging of sound waves. To simulate a holistic tent-like structure, the team used a hybrid of 3D printed polymer shells on 3D printed concrete topography with the 'Mesh Relaxation' parametric strategy. Another fun fact – it can also be used as a case study for future Martian habitats!
Meet the Dune House by Studio Vural , a seaside holiday dwelling that is carved into sand dunes and operates without relying on public utilities. Using a vast solar field and miniature wind turbines, this house produces more energy than it consumes!
Alex Nerovnya's Tesla-based render has us as intrigued as the Tesla Cybertruck originally did. We're looking at a minimalist structure that features angular design, while large glass areas dominate the house, of course with a special place to park your matching truck!
Nestled between the Caspian Sea and the Sisangan Forest is a private residence designed by MADO Architects in the Sisangan province of Iran. The clients had one request, an intense focus on privacy. The architects placed concrete slabs in a tent-like manner allowing them to intersect one another creating a completely private residence without sacrificing the view!
The Flexhouse by Evolution Design is characterized by its ribbon-like and stark white façade. This unique dwelling is situated on the banks of Lake Zurich.
Meet the Qishe Courtyard renovated by ARCHSTUDIO , located in Beijing. This renovated building merges the traditional and modern technologies by using curved glass walls and a curved roof while retaining the original seven structures.
FM House designed by Alarcia Ferrer Arquitectos comes in muted concrete and with a roof that flows into the mountain. At first glance, you may have difficulty locating the house as it almost merges into its surroundings, trying to cause as little damage to the environment as possible.
The Sunken Courtyard building concept by Team Group and is based on a traditional Iranian method called Bagh Chal or literally, Sunken courtyard and was designed to protect the inhabitants from hot weather by staying below the ground level.
The Black House by German architect studio Buero Wagner is a stack of differently sized rooms (kind of like the Weasley House) clad in blackened wood extending a transparent cozy room encased in glass walls.
This luxury villa designed by Arthectonica in Canary Islands, Spain takes a new geometric yet minimal look to traditional architecture.