Epson's stunning EH-TW6000 looks very similar to the Epson EH-TW5900 . Both have a glossy plastic case and aggressive-looking vents, but one costs more than the other, and comes with a brighter 2,200-lumen lamp and higher claimed contrast ratio.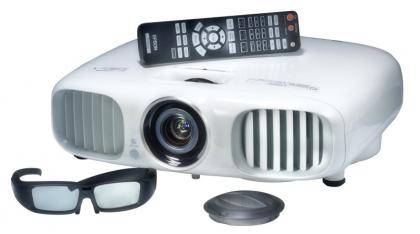 An otherwise identical model with a built-in wireless HDMI receiver is also available, called the EH-TW6000W (pictured here). The idea is to make installation even easier, so you connect the wireless HDMI transmitter box to an HDMI output such as your A/V receiver and there's no need to rout any cables (except power) to the projector. In our testing, we found that the transmitter needed an uninterrupted line of sight to the projector to send a crisp image – anything less and we saw pixellation or no signal at all, even just 6ft away. Because of this we'd recommend buying from a retailer with a good returns policy so you can test it out in your own home.
Another reason for the higher price is the pair of active shutter 3D glasses in the box. This means you can start watching 3D content straight away if you have a 3D Blu-ray player or other compatible hardware. That's good news as the EH-TW6000W is one of the best active shutter 3D projectors we've seen. There was next to no screen flicker and colours remained vibrant. There was an inevitable lack of brightness, but we would have watched each of our test 3D movies all the way through, given the time.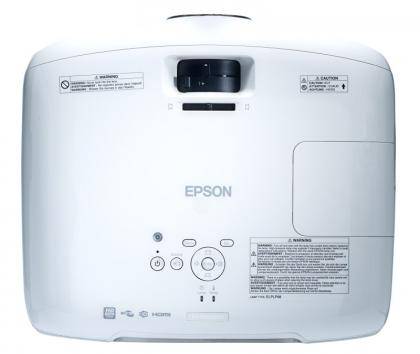 In 2D mode, colours were bright and warm, although slightly muted at the default settings. There was virtually no pixellation, often a hallmark of LCD projectors, and images looked incredibly sharp. Contrast was good, although black levels still left a little to be desired – darker scenes looked grey rather than black, which we couldn't fix by tweaking settings.
Image quality settings are comprehensive, with multiple picture modes, user presets and manual control over brightness, colour, contrast and sharpness. There are also advanced noise reduction, skin tone and keystone settings for even further tweaking.
The lens has the same horizontal keystone slider as the EH-TW5900 - so you can angle the projector diagonally across the room at the wall or screen and then adjust the image back to flat. This is no substitute for proper lens shift, which is sadly absent, even at this price. Virtually everything else can be adjusted via the remote control, which has a handy backlight for when you're sat in the dark.
Like the TW5900, the TW6000 has a decent pair of integrated speakers. Music and speech sounded clear and there was even some bass, but it's no competition for a dedicated speaker system. There are plenty of ports on the back of the unit, including component, VGA, S-Video and two HDMI ports.

Overall, the EH-TW6000 isn't drastically different from its cheaper sibling. Picture quality is very similar, but the extra brightness gives the TW6000 the edge for watching 3D content. We'd recommend saving the extra cash and buying the Epson EH-TW5900 instead.
| | |
| --- | --- |
| Lamp brightness | 2,200 ANSI lumens |
| | |
| --- | --- |
| Lamp life in economy mode | 5,000 |
| | |
| --- | --- |
| Contrast ratio | 40,000:1 dynamic |
| | |
| --- | --- |
| Native resolution | 1,920x1,080 |
| | |
| --- | --- |
| Max compressed resolution | 1,600x1,200 |
| | |
| --- | --- |
| Throw ratio | 1.32:1 to 2.15:1 |
| | |
| --- | --- |
| Projection distance | 1.2m to 10m |
| | |
| --- | --- |
| Special view modes | Natural, Living Room, Cinema, Dynamic |
| | |
| --- | --- |
| Sound inputs | phono stereo |
| | |
| --- | --- |
| Others inputs/outputs | USB mass storage port, USB service port, RS232, 3D Emitter input |
| | |
| --- | --- |
| Noise (in normal use) | 32dB(A) |
| | |
| --- | --- |
| Internal speakers | yes (2x 10W) |
| | |
| --- | --- |
| Extras | remote, cables (power, VGA, composite) |
| | |
| --- | --- |
| Remote special features | aspect ratio, zoom, freeze, colour mode, 3D mode |
| | |
| --- | --- |
| Power consumption standby | 1W |
| | |
| --- | --- |
| Power consumption on | 295W |
| | |
| --- | --- |
| Lamp supplier | www.projectorpoint.co.uk |
| | |
| --- | --- |
| Lamp cost per hour of use | £0.05 |
| | |
| --- | --- |
| Lamp cost per hour of use (economy) | £0.04 |
| | |
| --- | --- |
| Supplier | http://www.projectorpoint.co.uk |
Details
Specifications
Picture
Inputs/Outputs
Other
Lamp
Buying Information