Older, but wiser? When it comes to interior design, absolutely. As you get older, you're bound to accumulate new experiences, sources of inspiration, and life lessons that will help inform your biggest design decisions.
After all, you've probably gotten the hint that there are better design ideas than those unframed posters and butterfly chairs from college. Of course, there are plenty more design tricks and tips where that came from.
To help you decorate your space to the nines, we're sharing 30 design skills you should learn by the time you turn 30 years old. Sure, we know that everyone's expertise varies and that becoming a design guru has no expiration date. But if you're looking to learn something new at any age, this list is filled with our go-to ideas.
So what are you waiting for? While this list runs the gamut from practical DIY projects, to design tips, to the occasional cleaning idea, one thing's for sure: You're bound to pick up a new skill that will make your home shine.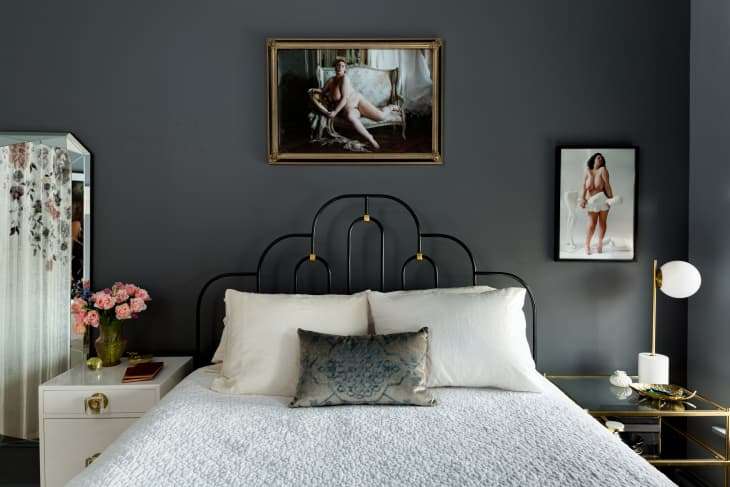 1. Apply temporary wallpaper to your rental apartment. No permission to paint? No problem! 2. Master the art of the shelfie. Go ahead, turn your books into a bona fide design moment. 3. Leave some breathing room between your couch and wall. Turns out, pushing your furniture up against the wall doesn't necessarily make your space look larger. 4. Learn how to fill in nail holes. "If you're a renter, this can be a key step to getting back your security deposit," says Alessandra Wood, interior design expert and vice president of style at Modsy. "If you're a homeowner, it gives you the confidence to switch out what you hang and where without seeing nail holes all around the house!" 5. Find the best lightbulb that will make your space glow. Later days, fluorescents. 6. Hang your shelves closer to the ceiling to make your space appear larger. We think we'll try defying gravity… 7. Swap out that boring pendant light for a swoon-worthy style. Trust us, it's not as hard as you'd think. 8. Ditch any decor that is smaller than a cantaloupe. According to the pros, anything tinier than your handy produce will crowd a room. 9. Create a socially-minded layout. "When setting up a room think about how people will interact in that space," says Shannon Wollack, founder of Studio Life.Style. "For example, in a living room create a conversation triangle. The same is true for a kitchen: the stove, sink, and fridge should all be within three steps of each other so that you aren't running around." 10 . Beautify your kitchen with some new knobs . This simple switch is easier (and more affordable!) than getting custom cabinets. 11. Score a great deal on vintage furniture. With the right tips, one person's trash is another person's treasure. 12. Hang your own curtains. Sure, it sounds scary; however, this design tip is surprisingly easy. 13. Understand—and pay attention to—your room's scale. When it comes to choosing the right furniture, size does matter. 14. Start making your bed— really . " If there is one thing that says I'm an adult it's a clean bedroom with your bed made," Elizabeth Sesser, an associate at Ike Kligerman Barkley's interiors department."Getting in the daily routine will make you feel ready to start the day. Skip all the extra throw pillows and blankets, just keep it simple with shams and maybe one addition pillow to finish it off." 15. Create a neutral color palette. Start with the basics, then pile on the fun. 16. Embrace the rule of threes. If you want to add some spice a symmetric space, create a vignette with three of the same thing. Candlesticks? Bud vases? The sky's the limit. 17. Join plant parenthood. Pro tip: Having some leafy greens with breathe some much-needed life into your space—literally! Before you stock up on fiddle leaves and monsteras, check out our expert-approved tips to becoming a plant parent. 18. Direct your furniture to a focal point. No, your layout doesn't have to revolve around that big-screen television. 19. Pick out a rug that actually works with your space. "Your furniture should fit comfortably on the rug," Sesser says. "If everything is hanging off the sides, you've gone too small. Measure your space and start with the rug first , then select your furniture. Don't forget to consider door swings that may need to clear the rug or any corners that may create tripping hazards. Also, rug pads are key to keep everything in place!" 20. Use mirrors to make your space look larger. Mirror, mirror on the wall, who's the fairest of them all? 21. Prioritize function over form. Let's be real: We've all purchased a gorgeous, yet super uncomfortable, accent chair or couch. Learn from our mistakes and choose cozy. 22. Mix and match design styles with confidence. The cookie-cutter look is so yesterday. 23. Create an effective organization strategy—and stick with it. Yes, you can even create order in a maximalist home. 24. Invest in low-slung furniture to give the illusion of super-high ceilings. Be sure to check out all the other tips we have to fake the look. 25 . Hang your artwork or mirrors without enlisting the pros. "You should be viewing art at eye level, and you should be able to view yourself in the mirror," says Sesser. "Having a measuring tape on hand use blue painters tape to mark on your walls where screws should go to coordinate with the bracket or wire attached to your piece." 26. Use a lint roller to get rid of your shedding hair. According to one Airbinb host, your lint roller can be used for a lot more than your sweaters. 27. Karate-chop your pillows. A few love taps can make your throw pillows look more intentional and less, well , thrown. 28. Find the perfect shade of white for your home. Bonus points if you can tell the difference between ivory and ecru. 29. Maximize your storage space with a few floating shelves . This hack is so easy, you can even do it yourself. 30. Play with texture. Incorporating different materials will add some depth to any space.
We shared our favorite home hacks, and now it's your turn. Share your best design tips in the comments below!