The Epson EB-475Wi is a short-throw wall-mount projector that comes with its own mounting kit. It projects on to the wall immediately below it rather than across the room, which has numerous advantages over traditional designs. Unlike projectors mounted in the middle of the ceiling, rear wall or sat on a table at the back of your viewing room, there's no problems with unwanted shadows being cast by objects or by people walking in front of the beam. It's great if you want to present as you can step in front of the screen between slides, and get the full attention of your audience, all without being dazzled.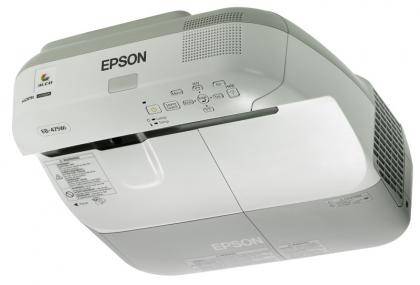 The mount, although a fairly weighty 10kg and almost 16kg with the projector attached, is also significantly less unwieldy to attach and assemble than most ceiling mounts - drilling holes in a wall is usually easier than a ceiling. The fact that the projector and mount are specifically designed for one another is also a distinct advantage, with mounting holes built into the projector itself to negate the need for a bulky cage.
The projector can cover screens from 53in to 100in in size. Once in position, it doesn't move. There are no focus controls, although there's a digital zoom that's already at its widest setting by default and is only really suitable for making minor adjustments to fit screen size. A digital E-Zoom feature on the remote control is of more practical use. It allows you to zoom in on a portion of the image, magnifying your display by up to 1.35 times. It's not very likely to be required if you're just going to use the display to show presentations, clone a computer screen or act as an electronic whiteboard, but it is helpful if you've connected the projector to a USB document camera that allows you use the projector to display any book or document on screen.
There are plenty of ways to connect a massive variety of sources to the projector, such as a HDMI port, two VGA ports and a USB port. In combination with Epson's supplied Easy Interactive Function software, this lets you make full use of the supplied pair of digital presentation pens to send notes from the projection screen to your computer.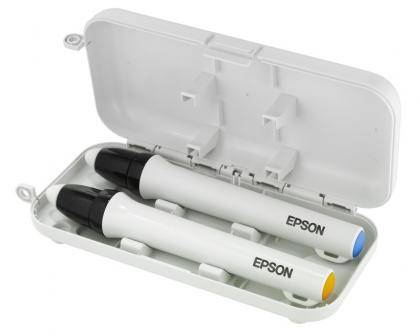 The pens can be used to move a cursor, draw diagrams, and highlight and enter text, among other features, turning your projected display into an electronic whiteboard suitable for use in meetings, lectures or classroom environments. At their simplest and most effective, you can choose a colour and use the pen to draw and annotate projected content. Once you've filled the screen, you can save your notes as a PDF, PNG, JPEG or BMP file and wipe it at the click of a button.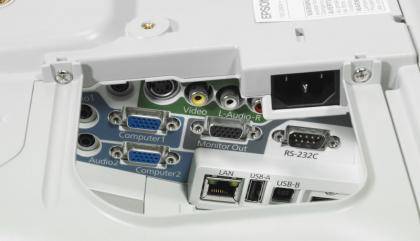 The projector also has a 10/100 Ethernet port for network projection. Once again, Epson supplies software that makes it easy to set up and use the feature with a minimum of fuss. An optional wireless dongle is also available. You can also use Epson's iProjector app for Android and iOS to display photos, documents and web pages directly from your phone.
Other connections include S-Video, composite and two component video inputs that work with more traditional video players and other legacy sources. There's also a serial port that you can use to add a projector controller and a VGA output that lets you daisy-chain your projector to additional screens or capture content from the projector's screen. The projector also has a built in 16W speaker, as well as a 3.5mm audio input and both 3.5mm and phono audio outputs.