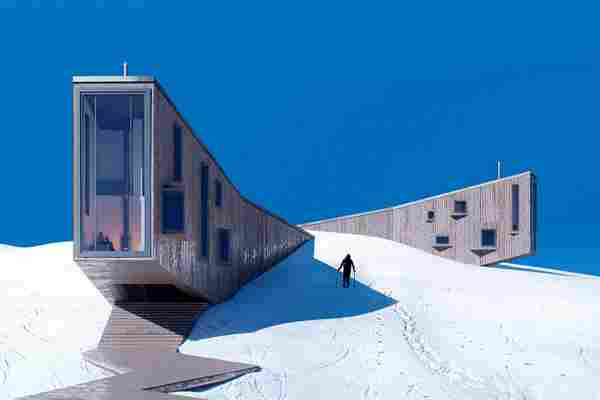 There is something so serene about a snowy landscape…when you don't have to shovel it! When you wake up and look out the window to see everything blanketed in a white sheet of fluff, it brings a sense of calm and stillness. Snow to me is a state of zen and that is why I am forever swooning over hotels like this one that gives us a glimpse of what a vacation to Narnia would be like – and trust me, I would probably inquire about moving there permanently. This particular hotel almost reminds me of the bunny slope aka level 1 ski slope which really makes it stand out as a winter hotel while naturally blending in its surroundings.
Hotels like this usually do better in one season, so their form is more unconventional to make the stay as unique as possible given the niche audience it serves. The gently sloping roofs make it one with the mountains and the top-to-bottom glass windows bring the natural beauty in. An architectural build like this stands out without having too many elements – simple additions like the windows eliminate the need to brighten or add too much decor inside because the surrounding doubles up as the aesthetic. Come to think of it, this hotel's form has made most of its environment and actually let it lead the interior instead of dictating the design.
High-altitude tourism is slowly but surely climbing up the hill of popular yet offbeat travel destinations. It allows time away from the noisy tourist spots and lets you have me-time either all cozied up in the hotel or skiing down the hill. Most hotels that are nestled in winter wonderlands have developed themselves as mini-ecosystems to sustain the establishment despite the weather, so there will be something to do for every type of traveler – unless of course, you are someone who would rather be laying on the beach. But even if you are a summer lover, just hanging out in a hot tub or a jacuzzi overlooking untouched snowy landscapes is bound to clear your mind and relax you.
One thing I am certain about is that no matter what your preferred travel destination or favorite season is, experiencing snowfall and drinking hot cocoa in an uncrowded space is a vacation for your soul.
Designers: Davit Jilavyan and Mary Jilavyan