The look of New York City's waterfront—all 520 miles of it—has been steadily changing over the past few decades, with gritty industrial strips being transformed into recreational landscapes. Nowhere is this change more pronounced than at Pier 54, which juts into the Hudson River from West 13th Street, just north of the new Whitney Museum . There, British designer Thomas Heatherwick has made plans to turn the crumbling pier into a 2.7-acre park, to be renamed Pier 55. When he announced the project, back in 2014 , the concept seemed far from reality. But the U.S. Army Corps of Engineers recently issued a permit to build, effectively clearing the last hurdle. Construction is set to begin this summer.
The park's conceptual origins trace their way back to businessman Barry Diller and his wife, fashion designer Diane von Furstenberg , who will be the project's lead funders for Pier 55's implementation, building on their early commitment to the High Line. The pier will be integrated into Hudson River Park, which links four miles of Manhattan's waterfront, from downtown to uptown.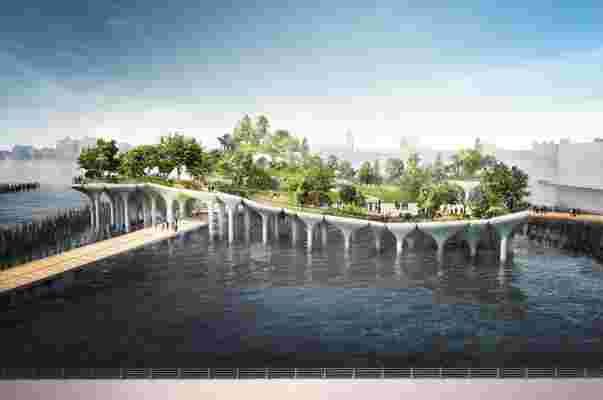 The various gradations, produced by the pier's stilts, will give the park a more natural feel.
Designed in collaboration with New York landscape architect Signe Nielsen, Pier 55 will include open lawns, walking paths, and even some topography in the form of rolling hills, as well as spaces for performances and cultural events. Heatherwick has been widely prolific over the past few years, designing at a range of scales, from an urban district for Shanghai to a seating device, the Spun chair, for Herman Miller. He was the subject of an exhibition at the Cooper Hewitt earlier this year, and his monograph, Making , released in 2015, chronicles 140 projects by his namesake studio.