The Marais is a lively district in Paris, filled with busy cafés and bars. But one quiet street called Rue des Archives just became the new home for the heart of modern photography. The Henri Cartier-Bresson Foundation has relocated from the city's far-flung district of Montparnasse into this central district in the Right Bank. This brand new museum, boasting 2,500 square-feet of exhibition space, opens to the public this week. "It's a way to bring the art to the people who don't live in Paris," says François Hébel, the director of the Henri Cartier-Bresson Foundation . "We wanted to make it in the heart of the city for people come to Paris for a few days and don't necessarily have the time come to the outer area where we were before."
Set along what Hébel calls the "museum mile" of Paris, the foundation's new location is within walking distance of some of the city's most iconic art museums, from the Picasso Museum to the Louvre and the Pompidou. He refers to its former space as a "shoebox," which had half the size of this new gallery, a space that has moving walls and high ceilings. "It wasn't big enough anymore; we had to update our venue," Hébel says.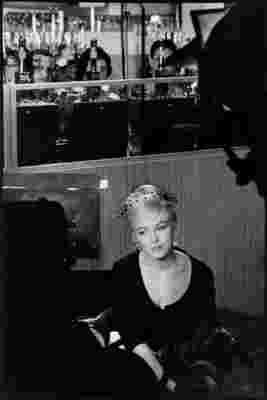 Actress Marilyn Monroe in 1960.
Located within a charming 18th-century courtyard, this white box labyrinth is outfitted with aluminum beams and glass walls. Designed by the firm NOVO Architects, which has a flair for simplicity, the building is so minimal, one might mistake it as a homage to the Bauhaus. Built entirely from scratch, its sleek beauty is all in the details—from the polished black concrete floors to its shiny steel walls.
Strangely, this building used to be a four-floor parking garage, of all things. "We had to destroy first two floors of the car ramp and rebuild them from the ground up," says Hébel. "We wanted the building design to be elegant and modest, which was the idea of Cartier-Bresson's foundation."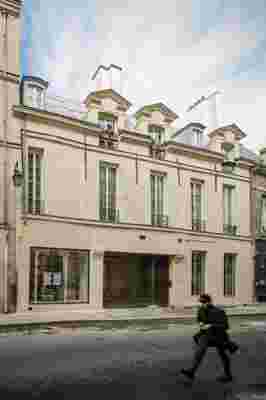 The exterior of the newest museum in Paris, which is dedicated to Henri Cartier-Bresson.
The foundation was established in 2003 as a way to preserve Cartier-Bresson's legacy alongside the photographs taken by his wife, Martine Franck. Together, their photo archive includes over 50,000 original photo prints and 200,000 negatives, all of which are all stocked upstairs.
"They wanted their foundation to not just show their own artwork, but the works of others, so it wouldn't be a dead space," says Hébel. "Here, we welcome photographers from the 20th and 21st centuries."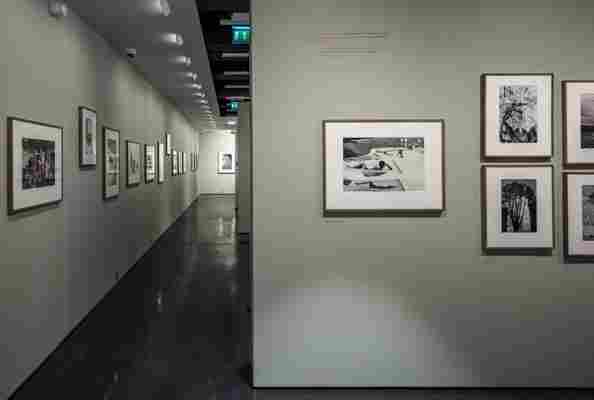 A look at the interior of the new museum, which is lined with photographs that are either on permanent display or part of a temporary exhibition.
The inaugural exhibition in this new space is a solo show of Franck's photography , which features over 100 black-and-white photos she took while road-tripping through Asia, shooting ancient ruins in Nepal and taking thoughtful portraits of famous artists, from Alberto Giacometti to Henry Moore and British photographer Bill Brandt.
Franck's work is poignant because she was a photojournalist in a time when women rarely were. As a trailblazer in the industry alongside Sabine Weiss, Sarah Moon, and Catherine Leroy, she carved out her niche with her series that documented working women, from models to maids, as well as those who worked in atypical roles, like train drivers and electricians.
A photograph by Henri Cartier-Bresson in Madrid, 1933.
The upcoming exhibition opening next February features the works of South African photographer Guy Tillim, to followed by a solo show by U.S. photographer Wright Morris. In the meantime, the foundation is working on transforming its 1,000-square-foot basement into an extended exhibition space over the next three years.
A photograph of a young Truman Capote in New Orleans, 1947.
And with this new gallery space, Cartier-Bresson's legacy lives on as a photographer who is famed for shooting the cultural leaders of the 20th century. Some of his most stunning portraits include photographs of Truman Capote, Marilyn Monroe, and Le Corbusier, all in perfectly composed frames. But Cartier-Bresson also paved the way for photojournalists when he cofounded the Magnum photo agency in 1947.
"Everyone has their own interpretation, but I believe he freed photography," says Hébel. "Cartier-Bresson was such a poet, he gave another dimension to photography that was not just static—that's why he has been recognized as the founder of modern photography."