New York City can often be a Peeping Tom's dream come true. There are countless windows just feet away from the sidewalk to peer into while going about one's day. Some voyeurs may want to see something scandalous, but the more design-minded among us simply want a better view of that rock-crystal chandelier, the tassels of a velvet curtain, or the patterns on an antique hand-painted wallpaper. Hence, our excitement over Wendy Moonan's forthcoming book, New York Splendor: The City's Most Memorable Rooms ( Rizzoli, $85 ).
Bulging with mind-bogglingly beautiful rooms to suit every taste, from modern to mad baroque, this book by Moonan, a veteran architecture, antiques, and design writer for the New York Times, House & Garden, and AD, was made over the course of two years. There is Gloria Vanderbilt's patchwork bedroom, Jamie Drake's Gracie Mansion dining room, and Brooke Astor's iconic library. "To me, this is a social history of decorating from about 1970 to 2018," the author told us. "I was at Town & Country for 12 years and did all the scouting for all of the houses. Sometimes it was society ladies in St. Louis, sometimes it was private art collectors in Russia, or wine growers in Chile." These New York City rooms, however, are very special to Moonan, who simply wanted to show the incredible talents of their decorators and architects. "The emphasis here is purely on the talent and not the owners."
How did she narrow it down? Laughing, Moonan says, "It was very hard! I was cleaning out my desk and I had files and files of clippings of homes that I love. I started out with around 250 rooms and sometimes I couldn't get home owner consent, and some changed their minds. So it really evolved a lot over time, but it is not comprehensive at all; these are all strictly personal choices."
Herewith, six of the book's most compelling rooms.
Donald Judd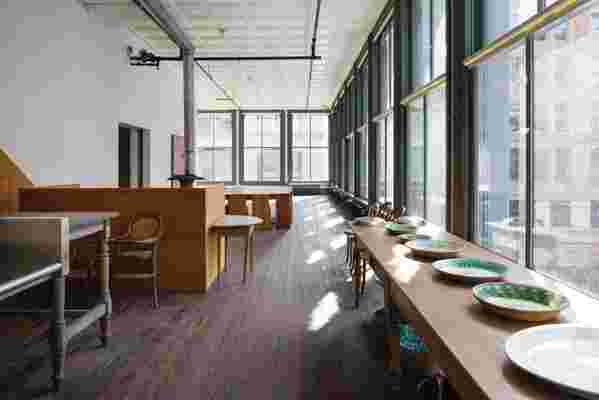 An early pioneer to settle in SoHo, sculptor Donald Judd often hosted dinners for artist friends like Frank Stella and John Chamberlain on his "eating floor"—where he carefully hung their works of art (he often traded his art for theirs). They were the only decoration he allowed in the loft, though he, of course, designed all the furniture.
Brooke Astor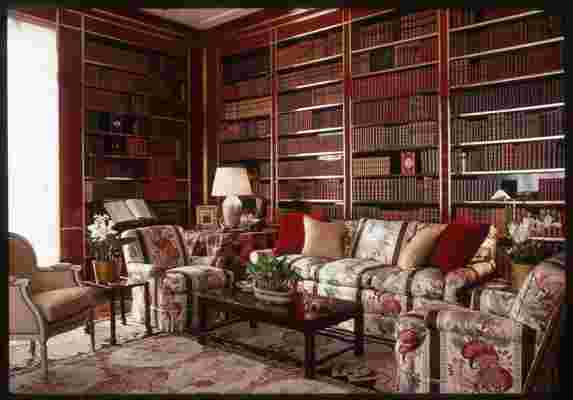 Philanthropist Brooke Astor was a devoted patron of the New York Public Library, but at home on Park Avenue it was husband Vincent's rare book collection that took center stage. Albert Hadley created red lacquered walls with brass-trimmed floor-to-ceiling bookcases to show off his leather-bound books—and make a chic, cozy space for her to entertain. It was her favorite room.
Joanne De Palma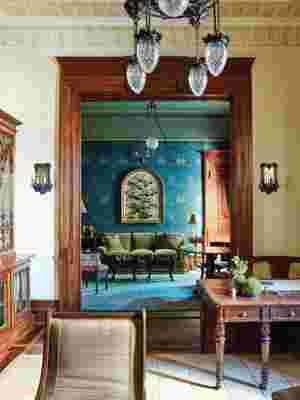 Joanne De Palma spent 15 years working with clients in this 19th-century Upper West Side landmark. Together, they collected fine Aesthetic Movement antiques, both English and American. But what makes the cavernous library sing are the colors: the teal blue Donegal carpet, the William Morris fabric on the walls, and the cornice glazed in layers of pale blue and green.
Robert Couturier
An acknowledged expert in 18th-century French decorative arts, designer Robert Couturier was thrilled to be able to create a Louis XVI–style house for clients in Borough Park Brooklyn, complete with paneled boiserie and antiques from the best Paris dealers. He once famously said, "I'm completely addicted to luxury." These clients are apparently not far behind.
Annabelle Selldorf
Architect Annabelle Selldorf, a master at reconfiguring old buildings like the Neue Galerie for new uses, only once was asked to turn a YMCA into a duplex loft. She removed interior walls, so the old running track floor became a sleek, open kitchen/dining/lounge area, while the basketball courts were converted into living room, office and three bedrooms.
Sandra Nunnerley
Collectors naturally gravitate to designer Sandra Nunnerley because she studied art and architecture in New Zealand and worked in art galleries in Sydney, Paris, London, and New York. For a serious photography connoisseur, she gutted an Upper East Side apartment and opted for an open plan, with beige linen walls to display important contemporary pictures, ceramics, and African masks. Nunnerley designed the black slate fireplace and snakeskin ottoman.
The cover.
A book signing for New York Splendor will take place on Saturday, November 10, at 4:00 P.M., at the Maison Gerard Booth at The Salon: Art + Design, in the Park Avenue Armory (643 Park Avenue, New York City).
RELATED: Go Inside Georgia O'Keeffe's Secret Room