Growing up in Mexico City, Frida Escobedo would go with her doctor father to the hospital, where she would stare out the windows into neighboring apartments. "I was trying to understand how space reflects people's personalities," says Escobedo, now a locally based architect. "Those guys are fighting, this couple is happy—all that is revealed by design." Nowadays, however, Escobedo has her sights set much farther afield. This past summer, the rising star debuted her realized design for the 2018 Serpentine Pavilion in London.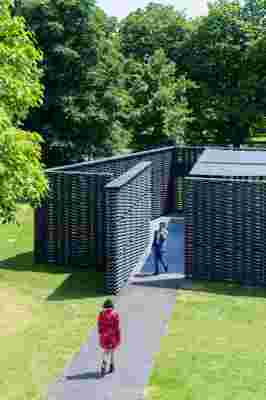 The structure remains on view through October 7.
"My idea was to combine exterior and interior, like a secret place," Escobedo says of her scheme, a clandestine cloister that acts as a kind of complex clock. Gray concrete tiles typical of British roofs are stacked into celosías, or breeze blocks, casting shadows to mark the passage of time. Rectangular volumes form an interior courtyard—a nod to Mexican domestic architecture—with one angled parallel to the prime meridian. And a reflecting pool, refracted by a curved, mirrored ceiling, gives the illusion of double height while accentu-ating light. "We were interested in filtering the landscape into the space," says Escobedo, adding that the pavilion's metal steel frame "aged and bled" as it has developed a patina.
Escobedo is no stranger to such temporary, interactive feats. Her 2010 installation at Mexico City's Museo Experimental El Eco featured movable concrete blocks that could accommodate lectures and performances. In 2013, she created a circular stage for the Lisbon Architecture Triennale, followed two years later by a series of mirrored surfaces for the courtyard of London's V&A museum. But the Serpentine commission, she admits, presented "quite a challenge," all the more so considering the 39-year-old is the youngest architect ever to receive it.
Acapulco's Hotel Boca Chica, revamped by Escobedo in 2010.
While Escobedo finds the experimental nature of pavilions rewarding, she is now tackling two private homes and a housing complex. For her second hotel with Grupo Habita, meanwhile, she is transforming an 1890s residence in the Mexican city of Puebla into a wellness retreat. She's also settling into her new apartment in an iconic Mario Pani–designed building. "I have so many windows, which is just fantastic," she says, excited to revisit a favorite pastime. "I'm back to my childhood." fridaescobedoet