Increasingly, yachts are being made in a variety of different shapes and sizes . Yet one recent cruiser seems to break the mold. A body-shifting surprise awaits in the stern of the Evo 43 yacht: a transforming cockpit, controlled by smartphone or tablet, with sides that extend outward, increasing the total deck space to 270 square feet. It's precisely this design that has brought attention to the first luxury craft from Evo Yachts, a brand launched in late 2015 and engineered by its Italian parent company, Sea Engineering Group.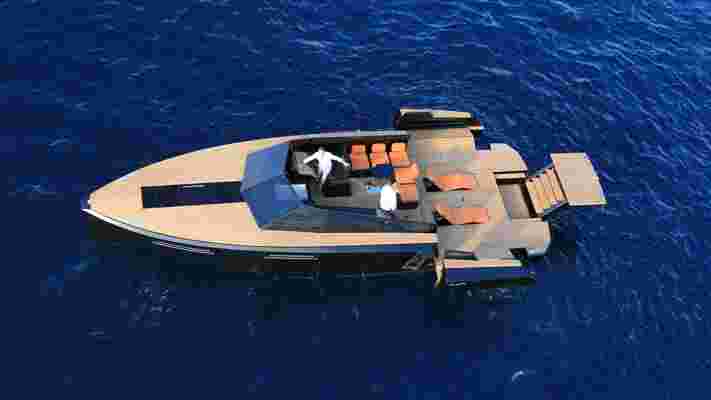 Unmistakable on the water, the Evo 43's transforming cockpit has drawn comparisons by some to the wings of bats and the TIE fighter from Star Wars . Designed by Valerio Rivellini of Naples's Studio Tecnico Rivellini, the Evo 43's cockpit also includes modular lounge chairs and an adjustable platform that lets passengers step into the boat from a dock or into the water from the rear of the yacht. Additionally, the cruiser has a galley kitchen—with a stove, sink, and fridge—by the steering console as well as seating for 12 guests, which makes entertaining easy.
At a length of 43 feet and a top speed of 38 knots, the Evo 43 may be more suited for day trips than overnight excursions, although two cabins below decks hold four beds. Nevertheless, when traveling at its cruising speed of 30 knots, the ship has a range of 300 nautical miles (for perspective, a trip from Key West, Florida, to Nassau, Bahamas, is 240 nautical miles). Currently starting at $750,000, the Evo 43 will be on display this week in the Palma de Mallorca marina on the Balearic Islands off Spain during Boat Show Palma.