An impressive winning streak continues in Paris, where Girafe, one of the city's most anticipated new restaurants, quietly opened over the summer. Tucked inside the Palais de Chaillot—home to the Cité de l'Architecture et du Patrimoine—the hot spot marks the latest project from restaurateur Gilles Malafosse, his associate Laurent de Gourcuff, and AD100 designer Joseph Dirand , the brain trust behind local favorites Loulou and Monsieur Bleu. Like those runaway successes, Girafe promises to lure residents and visitors alike, thanks in no small part to Dirand's interiors—intimate, at times theatrical, spaces inspired by the grand Parisian cafés of the 1930s.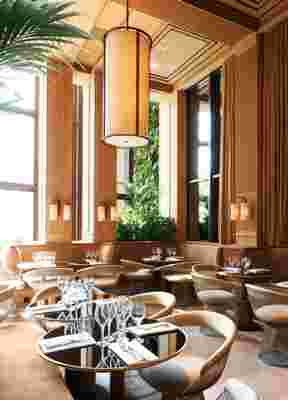 AD100 designer Joseph Dirand conceived the interiors at Girafe; custom light fixtures.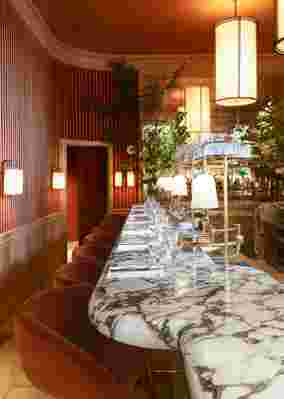 The Bar was carved from a single piece of marble.
A soft palette of beiges and creams showcases custom ceiling fixtures and sconces, Platner dining chairs, and organic touches like oak paneling, natural raffia insets, and a statement bar carved out of a solid piece of marble. Grab a seat and order one of the many seafood delicacies on the menu, which features contemporary twists on traditional brasserie fare. (Think swordfish Milanese, fresh daily catches, and a traditional steak au poivre.) Or head outside to the huge terrace and enjoy picture-perfect views of the Eiffel Tower. girafepariom