The riveting story behind the most expensive skyscraper ever built is finally being told in full, thanks to the new book One World Trade Center: Biography of the Building by Judith Dupré, who was granted unprecedented access to the project's key players as she chronicled the 104-story landmark's epic construction. The 284-page account starts on September 12, 2001, with then-mayor Rudy Giuliani's declaration that the site would be rebuilt, and it vividly depicts the ensuing 15 years, during which Ground Zero was transformed into one of lower Manhattan's busiest hubs. The volume also features more than 250 photos as well as plans of the building and surrounding area, including many never-before-seen images of the construction.
Designed by architect David Childs, of the firm Skidmore Owings & Merrill, the 1,776-foot-tall edifice (anchored by Condé Nast, which owns Architectural Digest ) cost a staggering $3.9 billion to build and went through several iterations before the ultimate design was determined. Dupré offers unique insight into many of the proposed designs for the 16-acre site, including plans from Richard Meier, David Rockwell, Rafael Viñoly, Shigeru Ban, and Charles Gwathmey. The obelisk-inspired tower officially broke ground in April 2006 and welcomed its first tenants in November 2014; to date, more than two-thirds of the three million square feet of office space within the tower has been leased.
On Tuesday, April 26, hundreds fêted the book's release at a party on the 64th floor of the building, including Dupré, who elaborated on why she was drawn to this particular project. "One World Trade Center's design is timeless, untethered from trends," she says. "In its surface we see every passing cloud, every shade of blue, the faces of passersby, the architecture of earlier centuries. I was moved by what this beautiful yet humble tower stands for and all it means to New Yorkers—and to the nation."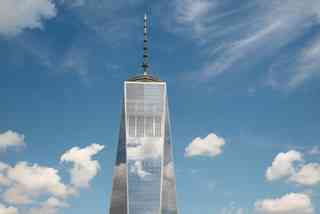 At 1,776 feet, One World Trade Center is the tallest building in the Western Hemisphere. It opened for business in November 2014, approximately eight and a half years after its groundbreaking.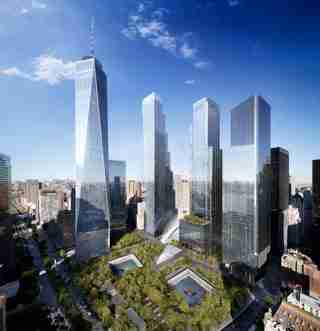 A rendering of what the 16-acre site will look like once all the towers are complete. Clockwise from 1WTC (far left), are 7WTC (completed in 2006 and also designed by Skidmore Owings & Merrill), 2WTC (designed by Bjarke Ingels and scheduled for completion by 2020), 3WTC (slated to open in 2018 with a design by Richard Rogers) and 4WTC (opened in 2013 and designed by Fumihiko Maki).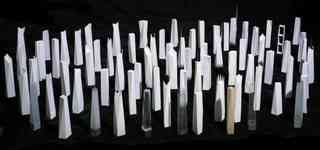 Scores of investigatory models from SOM helped yield the tower's final 2005 design.
An aerial view of where the podium of 1WTC meets the 9/11 Memorial, which comprises twin pools in the footprints of the original World Trade Center towers. Each pool is surrounded by parapets inscribed with the names of victims of the terror attacks in 1993 and 2001. (The North Pool is shown above.)
A 90-foot-long, graffiti-inspired mural by Brooklyn-based artist José Parlá graces the south lobby of 1WTC, which is clad in white Larissa marble from Carrara, Italy, and paved with Mesabi Black granite quarried in Minnesota.
Inside one of the building's five Sky Pods, which whisk visitors up to One World Observatory, located on floors 100 to 102. The journey takes approximately 47 seconds, during which the elevator walls display an animation of lower Manhattan's development through the centuries.
The top portion of 1WTC, crowned by a 408-foot steel spire, as reflected in 4WTC.
The new book One World Trade Center: Biography of the Building (Little, Brown and Company; $35) by Judith Dupré is available now.