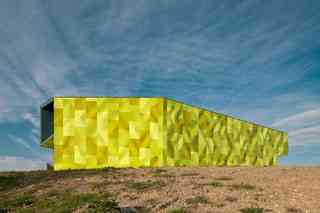 The goal of civic architecture is to create municipal spaces that ultimately keep our cities, towns, and lives functioning as they should. Centers for recycling and waste management are just one part of that, yet their impact stretches beyond the daily grind to the well-being of the environment and, ultimately, the earth. With that in mind, contemporary architects are designing modern hubs of waste disposal and reuse with recycled and salvaged materials, intuitive layouts that facilitate efficient processing, and innovative façades designed to inspire. Here, AD has rounded up some of the freshest takes on recycling centers, from a wastewater treatment plant with a green roof, to a waste-to-energy plant by Bjarke Ingels [link: http://www.architecturaldigesom/story/bjarke-ingels-article] topped with a ski slope, to the modular steel structure by Selldorf Architects that takes care of NYC's recycling needs.
Known informally as an "urban stomach," the Urban Waste Collection Station in Huarte, Spain, is a facility that compacts waste from surrounding areas to be shipped to other sites for recycling. Designed by Spanish firm Vaillo + Irigaray, the structure is clad with sheets of recycled aluminum that are painted lime-green in keeping with the project's ecological theme.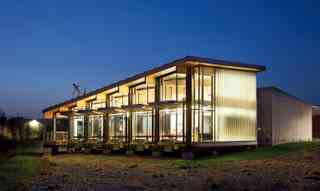 A LEED Platinum–certified building, the East Side Recycling Center in Iowa City, Iowa, has a slanted-roof design and a façade made with glass, metal, wood, and concrete. Built by architecture and engineering firm Shive-Hattery, the facility features not only sites for disposing of oil, compost, and electronic waste but educational space as well.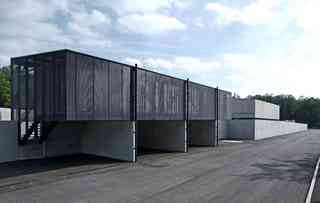 Pivka, Slovenia, is home to this metal-recycling plant by the architects at Dekleva Gregoric Arhitekti. Functioning as a site to prepare metal waste for reuse, the plant comprises two structures, a concrete service building and a steel-mesh-covered office, both visually linked by a low concrete wall that contains the site's heaps of scrap metal.
Situated on an 11-acre pier along the New York Harbor, the Sims Sunset Park Material Recovery Facility in Brooklyn processes recyclables from the city's many inhabitants. Designed by Selldorf Architects, the buildings within the center are made with recycled steel and feature space not only for waste management but for classrooms and exhibitions as well.
Form follows function at the Waste Disposal Installation in Delft, Netherlands, by Dutch architecture firm UNStudio. The design of the concrete-and-glass structure was inspired by the circulation of vehicles and processes of waste management, meaning the sloping roof and general layout of the building are intuitively planned for maximum efficiency.
The Seattle Public Utilities South Transfer Station serves its namesake city with a LEED Gold–certified building made with recycled metal and concrete by the architects at Miller Hull. Visitors can enter the site, which facilitates recycling, garbage disposal, composting, and rainwater collection, through an entrance clad in old street signs from the city's department of transportation.
Made with recycled steel, the Phoenix North Transfer Station and Materials Recovery Facility was designed by HDR for energy efficiency, with solar-powered exterior lighting and a reflective roof with overhangs to create shade. The long, horizontal structure mirrors the flat Arizona terrain and features landscaping made up of the native plants it displaced.
Designed by Skylab Architecture, the Columbia Building at the Columbia Boulevard Wastewater Treatment Plant in Portland, Oregon, has a jagged roofline with concrete "fins" covered with vegetation for collecting and delivering stormwater to a nearby waterway. This structure, used for office space at the plant, runs on solar power and an on-site generator.
Designed by Ennead Architects, the Newtown Creek Wastewater Treatment Plant in Brooklyn consists of three main structures connected by glass walkways that sit atop the water-bottle-shaped centrifuges. The site features a visitor center with a sculpture depicting the natural water cycle by artist Vito Acconci and a waterfront park designed by environmental sculptor George Trakas.
Curved-glass screens are the defining feature of the recycling center in Kalmar, Sweden, by Strindberg Arkitekter. The largest screen encircles containers for recyclable materials from the city's residents, while the smaller screen provides a patio and bench with views of the city.
This waste-to-energy plant in Copenhagen, scheduled for completion this year, will replace a neighboring plant to introduce more sustainable waste management to the city. Designed by Bjarke Ingels Group (BIG), the structure will feature a roof that functions as a recreational ski slope accessible by an elevator that provides a view of the building's interior. Meanwhile, a smokestack will emit a ring of smoke every time a ton of carbon dioxide is released as a visual reminder of the city's energy consumption.
Set to open in 2020, this power plant in Shenzen, China , will be the world's largest, measuring about one mile in diameter. Designed by Schmidt Hammer Lassen Architects and Gottlieb Paludan Architects as part of a competition, the cylindrical plant will convert 5,500 tons of waste into energy each day, in addition to generating power with a roof of solar panels.